Main Heading
Our Mission:
Your Wellbeing
The purpose of the Family Planning Council of Iowa (FPCI) is to provide quality reproductive health care and family planning services to all people in Iowa, regardless of identity or ability to pay. We provide this care through the delegation of Title X (ten) funds from the federal government, subcontracting with delegate agency clinics to provide family planning services to low-income individuals in local communities. FPCI also provides services and programming available to nurses, students, and the public.
Our Means:
Services & Programs
Title X Delegation
FPCI ensures access to reproductive health care through the delegation of federal Title X funds to Iowa family planning clinics and providers.
Community-Based Screening Services
For over 25 years, FPCI has worked with the Iowa Department of Public Health to provide statewide screening, treatment, and education for chlamydia and gonorrhea.
Nursing Continuing Education
In partnership with the Iowa Board of Nursing, FPCI provides continuing education credits to subrecipient clinics and other statewide co-sponsors.
Our Vision:
Responsible Sexual Health For All
We envision an Iowa where sexual health results from responsible decision-making and access to care for all who seek it. FPCI is committed to seeing this through in all of our efforts.
Building Positive Community Climates
Cultivating community climates that are family planning friendly. Working toward positive attitudes and family planning competence through providing funding and reproductive health services.
Supporting Sexual Health Competence
Supporting an internalized individual and community-wide understanding and appreciation of sexual health, leading to informed decisions on reproductive health care.
Encouraging Family Planning & Education
Leading and encouraging family planning and education as effective ways to both achieve pregnancy and to break the cycle of unintended pregnancy, infant mortality, child abuse, and neglect.
Promoting Healthy Sexual Relationships
Encouraging healthy sexual relationships and communication both between family members and sexual partners. Increasing the opportunity for sexual health by preventing and treating sexually transmitted infections and their health effects.
Empower Iowa with Quality Reproductive Healthcare
View our annual reports and/or participate in our mission of providing quality care to Iowa by supporting us through a financial donation. Your support drives our work forward!
Meet the FPCI Staff
Allison Smith
Interim Executive Director
She/Her/Hers
Email Allison
Allison was on the Family Planning Council of Iowa Board for four years before becoming interim Executive Director. She is responsible for planning for FPCI's future in collaboration with the Board of Directors. This includes administration and oversight of programmatic activities, advocacy for public support of reproductive healthcare and all forms of contraception, implementation of policies and procedures, and securing and managing personnel and financial resources.

Allison earned her Bachelor of Science degree in Biomedical Engineering and her MBA from the University of Iowa. She currently resides in Des Moines.
Dr. Tara Shochet
Director of Programs and Grants
She/Her/Hers
Email Tara
Tara Shochet, PhD MPH, comes to FPCI with over 20 years of experience in program management and evaluation in the fields of reproductive and maternal health. She is very excited to join the FPCI team and to focus her energies on improving access to sexual and reproductive health care here in Iowa.

Tara received her MPH from Columbia University and her PhD from the University of Michigan. She currently lives in Iowa City.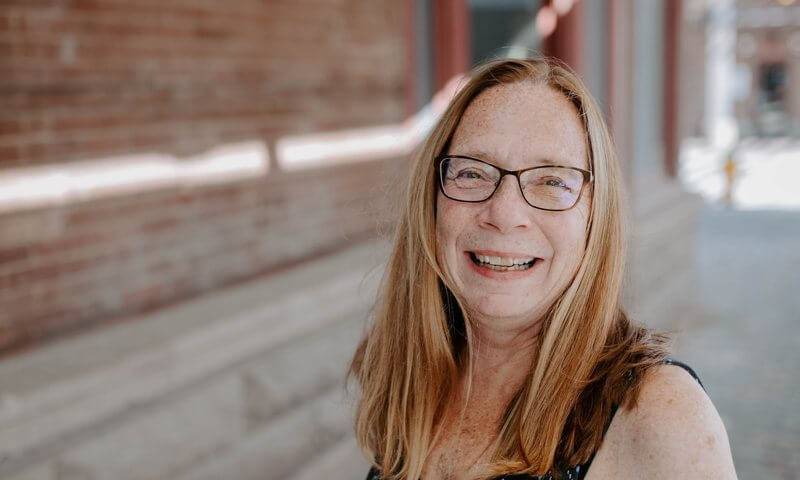 Michelle Farmer
Administrative Assistant
She/Her/Hers
Email Michelle
Michelle has worked at FPCI for over 15 years! What she loves most about her role is the variety that the job brings, her coworkers, and the impact of our organization on individual lives.

Outside of work she loves spending time with her spoiled dog, Gus, and her cats, Beaker and Harry. She loves the quality time she gets with family—especially her granddaughters! Michelle loves to go to the movies and just plain relax.
Amy Zine
Outreach & Program Specialist
She/Her/Hers
Email Amy
Amy graduated from The University of Iowa with a BA in Biology and a BS in Medical Anthropology. She is responsible for building partnerships with communities and organizations around Iowa. This primarily involves disseminating information and resources, such as our repro kits. Contact Amy with questions or ideas for collaboration!

When she's not at work, Amy enjoys watching movies and spending time with her friends and her brand new kitten, Booger.
Open Position
Clinical Policy Coordinator
Contact us if you are interested!
Board of Directors
The Family Planning Council of Iowa is led by a Board of Directors that includes industry leaders, experts in the field of sexual and reproductive healthcare, and community members. Contact [email protected] if you are interested in a Board or Committee role.
Adam Stark, President
Kimberly Hope, Vice President
Eric Nemmers, Secretary
Chloe Butler, Treasurer
Hannah Ellis Ackerman
Mary Salazar
Kelsey Willardson
Accountability
FPCI is committed to transparency and accountability. See our Candid profile for more information about where our money comes from and where it goes. Contact us with any questions.
Contact Our Staff